Unique moments in a historic setting
Our historical building ensemble includes the oldest house in the town of Süderende and is nestled in an expansive garden on the island's old geestland core. Stylishly designed rooms, enchanting suites, exquisite furnishings, modern bathrooms, historic tiles and tiled stoves await you here.
Each evening, our chef will indulge you with regional specialities prepared exclusively for our guests and served in a truly unique setting...
Suites & rooms

A top-notch restaurant in a very private setting!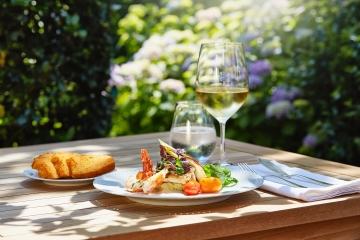 The restaurant at Landhaus Altes Pastorat will surprise you with top-notch regional dishes in a very private setting, because it is reserved exclusively for our hotel guests! Each evening we offer you a 3-course meal including a choice of fish or meat for your main course. Of course you are also welcome to make special requests.
In the morning, you will be enchanted by our breakfast buffet, which includes delicious pâtés, select cheeses and home-made jams. Indulge yourself.