A space for experiencing Frisian moments
The Altes Pastorat hotel combines northern German building traditions with modern comforts in a most pleasant way. The main building houses four elegantly designed suites (each with its own living room and bedroom, one has its own tiled stove) and three stylish double rooms. The suites and double rooms have the lovely names Giebelsuite (gable suite), Pastor Suite, Gartensuite (garden suite), Parkappartement (park apartment), Heuboden (hayloft), Kinnerstuv (nursery) and Brückenzimmer (bridge room). Delftware tiles with maritime or idyllic rural images from the heyday of whaling, comfortable armchairs and sofas, old stoves and lovely antiques adorn the entire building. Just opposite the main house, separated only by a narrow road, you will find our lovingly restored Frisian farmhouse, which we opened in July 2015. It now houses to two top-notch suites and another double room.
The older part of the country hotel originally included the pastors' rooms and stables and now houses the restaurant, bar and fireplace room. The "confirmation room", which also served as a schoolroom for navigation and helmsmanship classes, is now our cosy fireplace room. The comfortable hall with a house bar and coffee bar serves as an additional meeting place for guests. When the weather is nice, it can be especially enjoyable to have breakfast or dinner on the terrace in the spacious rectory garden.
Please note that our rooms and suites are all non-smoking areas.
Select your category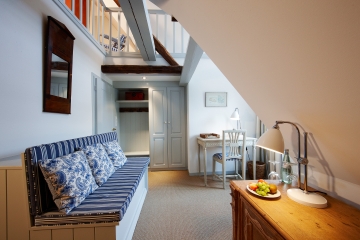 The hotel has six comfortable uniquely furnished suites and four well-lit, stylishly decorated rooms. A special attention to detail is evident throughout building ensemble. Tiles and selected pieces of furniture are reminiscent of the old parish house days. Our completely renovated Frisian farmhouse offers an impressive combination of historic features and modernity.
All rooms and suites feature satellite TV, a radio and a telephone. WiFi internet access is available throughout the premises. In the beautiful bathrooms, you will find a hair-dryer and luxurious body care product along with a comfortable bathrobe and slippers.